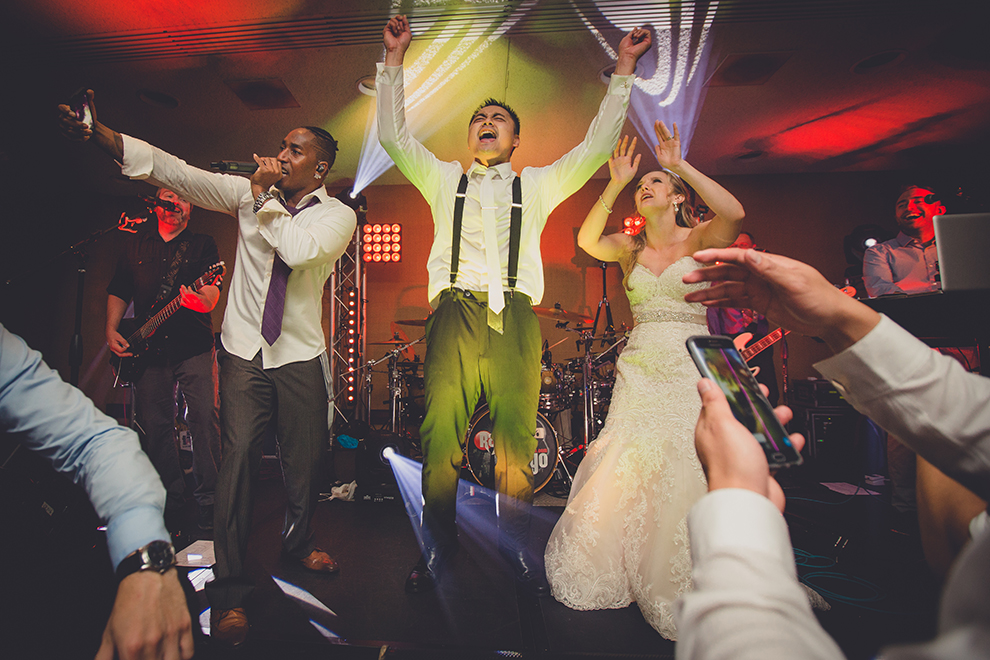 Jess and Gian with their wedding band, Radio!
Save
Save
Jess and Gian searched near and far to find the perfect band for their wedding at the Buffalo Niagara Convention Center, and holy heck they nailed it. Radio Tokyo ( @radiotokyorocks ) from Pittsburgh was the best band for this crowd and the absolutely knocked it out of the park. Singer/rapper Ambition (aka Pretty Ricky!!!) was just incredible. We're talking hover board through the crowd while singing incredible. We had an absolute blast working with you all!
A wedding band really makes a huge difference in the mood of a party. There are some amazing DJ's in the Buffalo Niagara region I really enjoy working with, but the entertainment a band brings truly takes it up a level. For the guests who don't enjoy dancing, there is still something for them to watch and enjoy. I find wedding guests stay later at receptions when there is a band and that the age range of the guests remains much more diverse as well. A great wedding band like Radio Tokyo is definitely worth the splurge if you have the budget!
Check out this fantastic band over on their website: https://www.radiotokyorocks.com/
Jess and Gian are also featured in my Engagement Photography Portfolio! http://dedario.com/engagement/devils-hole-whirlpool-state-park-wedding-engagement-photography-niagara-falls-2/
Thanks to Jess and Gian for having me document this amazing wedding and band at the Buffalo Niagara Convention Center!