Lou + Dan
Lou and Dan's small backyard "micro" wedding in Buffalo was a beautiful bright spot amid all the trouble Covid-19 has caused for so many people. Needless to say, this pandemic has been a real jerk, mainly to those who have suffered from the disease and our health care workers of course. But so many others have been effected in more subtle ways, not the least of whom are couples who were planning to get married during this time and the small businesses that rely on special events to make a living. Lou and Dan were one of those couples, and I'm one of those small businesses. Bummer-city right? But fortunately for everyone reading, this post is about some of the good to come out of it all.
Lou and Dan had planned a wedding for late March in the Washington, D.C. area where they currently live and where Lou is from. As the realities of Covid-19 set in though, they realized their wedding wasn't going to be happening any time soon and decided to reschedule. As time went on and family circumstances shifted a bit, these two realized there's no better time than the present. A big party can happen any time. But if there's one thing 2020 has showed us, it's that curve balls can come at any time. Who knows where the world will be a year from now, so Lou and Dan decided to dive in.
In a weeks time this crew managed to plan a small backyard micro wedding at Dan's parent's house in Orchard Park, NY a small town near Buffalo where Dan is originally from. They hired a caterer (Fat Bob's!), a florist, me. They gathered tables, chairs, a pergola and plenty of hand sanitizer. And just like that, they were ready for a wedding.
It's amazing to me, how much work goes in to planning weddings, some couples take YEARS to plan them. At the end of the day though, Lou and Dan prove that all you REALLY need are your tried and true family and friends, a marriage license and each other.
I began the day with Dan at the brand new Aloft hotel at 500 Pearl in Buffalo. This building was controversial when it was being built for a number of reasons I support. I'll admit, I really didn't want to like it. But these rooms are AWESOME. Like… really awesome. Dan's suite had two levels, featured a handsome industrial vibe with dark wood, a metal spiral staircase and exposed duct work. It had a chandelier made out of trumpets, a pool table, and balcony views for miles. Really awesome space.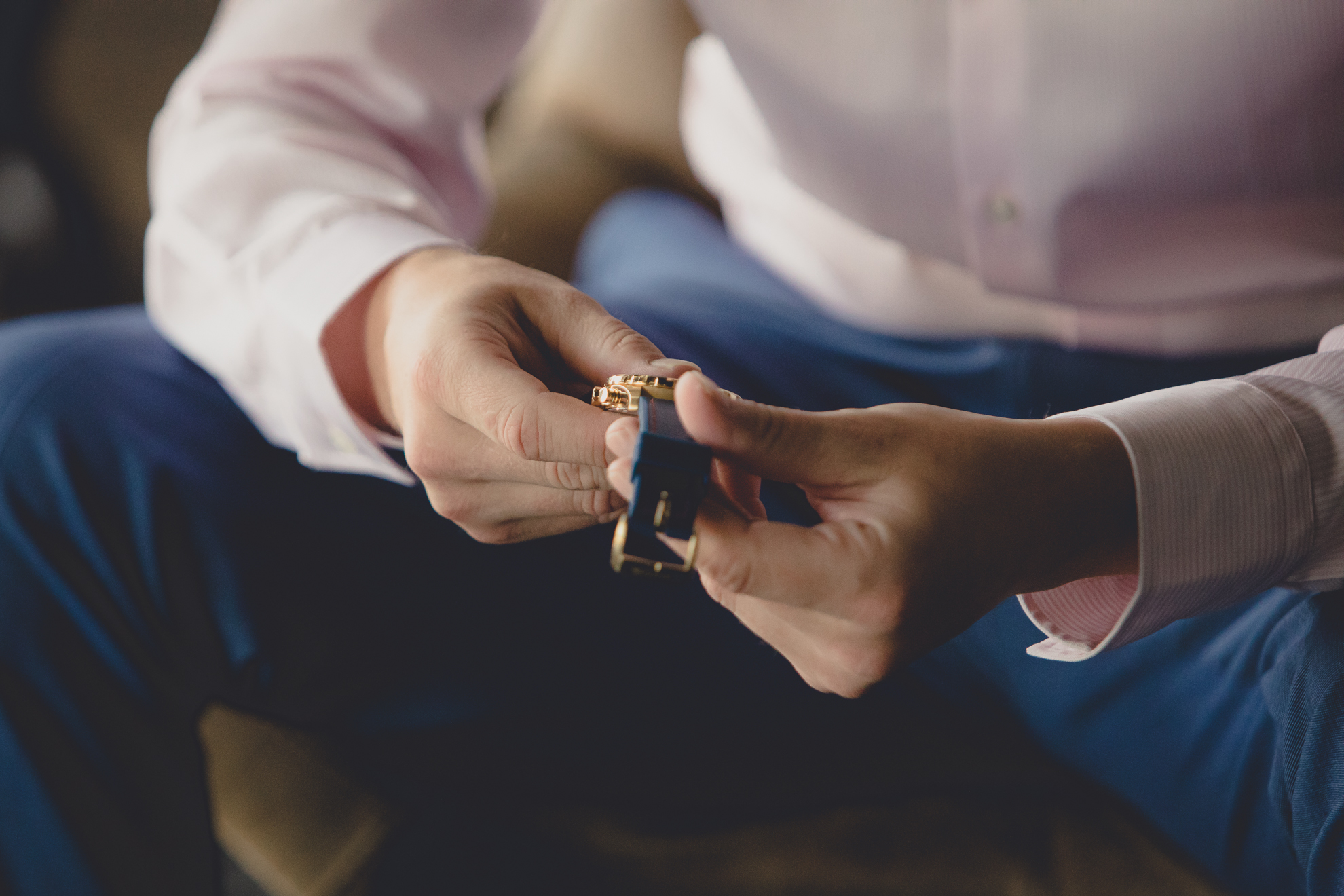 The groomsmen all signed two dollar bills and each kept one for good luck. This was the first time I had seen this tradition!




While Dan and his groomsmen headed out to Dan's parent's for the backyard wedding celebration, I headed up to Lou's room, also at the Aloft in the 500 Pearl building. Lou's room was completely different from Dan's and every bit as awesome. It was bright and open with two full walls of floor to ceiling windows and more balcony views of downtown Buffalo. It was really a perfect spot for bridal preparations. I was so impressed! Here are a few shots of Lou with her mom and bestie/maid of honor Karina helping her with the finishing touches.






The views from Lou's balcony stretched for miles. You could see the Niagara River, Lake Erie and virtually all of downtown Buffalo! Lou was a radiant view herself, how gorgeous does she look in these bridal portraits?!



Must have been some extra bubbles in this champagne…


Off to the Buffalo style small backyard micro wedding!


Irises and hand sanitizer greeted all the guests at the entrance to the yard. I suppose this will be a "new normal" for a while! I was very interested to see how things would be handled for small gatherings during a pandemic and was really impressed with how Lou and Dan organized everything. The tables and chairs were spread in to clusters and labeled for groups who normally live together/spend time together. We call them "germ squads" in my circle. Everyone wore their masks when they were around other people as well so it felt very sanitary and safe.

Our officiant (another Dan) and Karina worked together to create a Zoom video call so that Lou and Dan's extended friends and family could all join and be part of the celebration. It was so nice that they were still able to witness what was to come! Karina kept a watchful eye over the angle of the laptop throughout the ceremony so no one missed a thing.


It's time! Here comes the bride! Lou walked herself half way down the "aisle" and then joined her mom for the remainder of the processional. Let the waterworks begin. <3






How idyllic is this setting?! Lou and Dan were so fortunate that his parents have such an incredible property. The tall trees and flowers made the most beautiful backdrop. Pandemic or not, this Buffalo backyard is a perfect place for a small micro wedding.









There's Karina with a Zoom call full of friends and family watching along!

Dan's parent's hands <3


When Lou and Dan originally had to postpone their wedding back in March, they realized there was only one solution to their sadness – a puppy of course! Their sweet little puppy was the perfect ring bearer. I love him!






A celebratory wave for the guests present and one for those joining virtually.



After the wedding ceremony, Dan and Lou picked up the laptop for a quick hello to their virtual Zoom guests.


The gentleman on the far left of this portrait is Lou's uncle (tio). He flew in from Peru for the original wedding in March and has been stuck here ever since! I'm so glad Tio actually got to see this wedding happen though! Hopefully borders will reopen soon so he can return home now that the wedding mission is complete.

For those outside the germ squad, we still took portraits without masks but spread everyone out a bit. Slightly awkward but still a lovely keepsake of the day.




And sometimes you just don't know when you'll have the crew together again, so you get together quick and hold your breath for the photo, haha.

I can't stress enough how beautiful this backyard in Buffalo was for holding a small micro wedding. I absolutely love these portraits of the bride and groom in the woods!











Time to make it official! Signing the marriage certificate!


Before everyone sat down for dinner, guests gathered around for a couple toasts to the bride and groom.





Cheers! Many thanks to Dan and Lou (and Karina for finding me on such short notice)! It was an absolute joy to be part of documenting this day for you. Little secret – this was actually my Birthday and honestly, I can't think of a better way to celebrate than by finally getting back to work and photographing a couple so happily united.

If you or someone you know is considering a small backyard micro wedding in the Buffalo area, please share this post with them and have them contact me for more information! I would love to be part of documenting more celebrations like this!
And if you just can't get enough of these backyard type weddings, check out this post from a tented outdoor wedding at Knox Farm!