Caroline + Paul
Caroline and Paul had the most wonderful wedding filled with warm, lovely people and personal touches as sweet as them. We ventured around Buffalo, NY to a few of its loveliest wedding photography locations including the chapel at Buffalo Seminary, the Albright Knox Art Gallery, Delaware Park and the Hotel Lafayette Greenhouse Room run by Pearl Street Brewery (check out a Pearl St. wedding here!).
Home Sweet Home
I started the day in Caroline's parent's house, the house she grew up in (a renovated barn!). Caroline is from a traditionally Irish neighborhood, South Buffalo, so it was no surprise at all to see these lucky shamrocks hanging from the rafters of Caroline's family room.  Add an old nail to the beam and there we had the perfect place to hang Caroline's dress. Meanwhile, Steve was off with Paul and his groomsmen at Paul and Caroline's place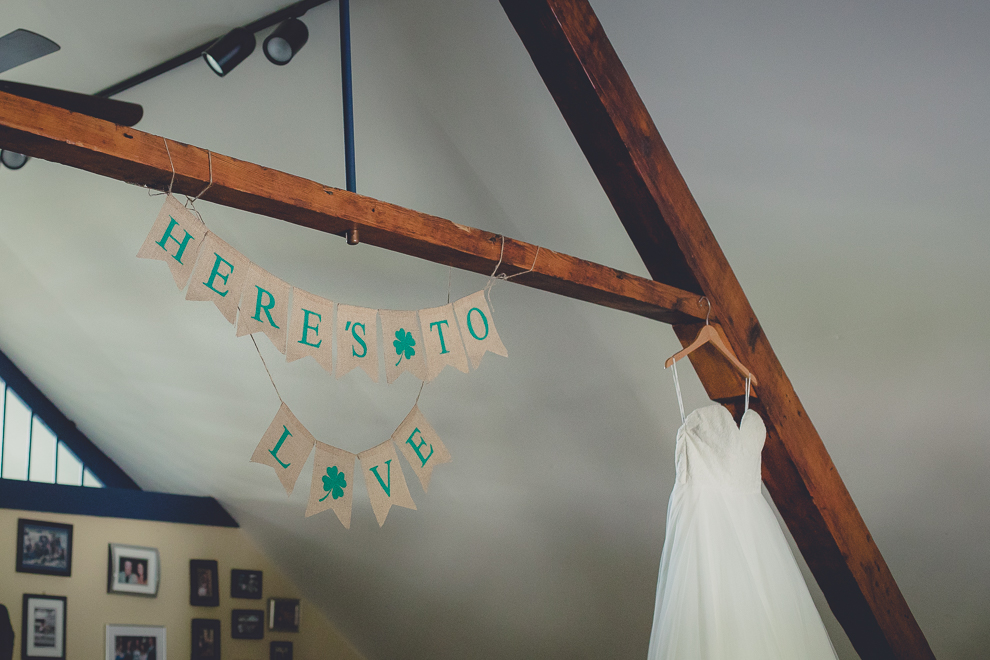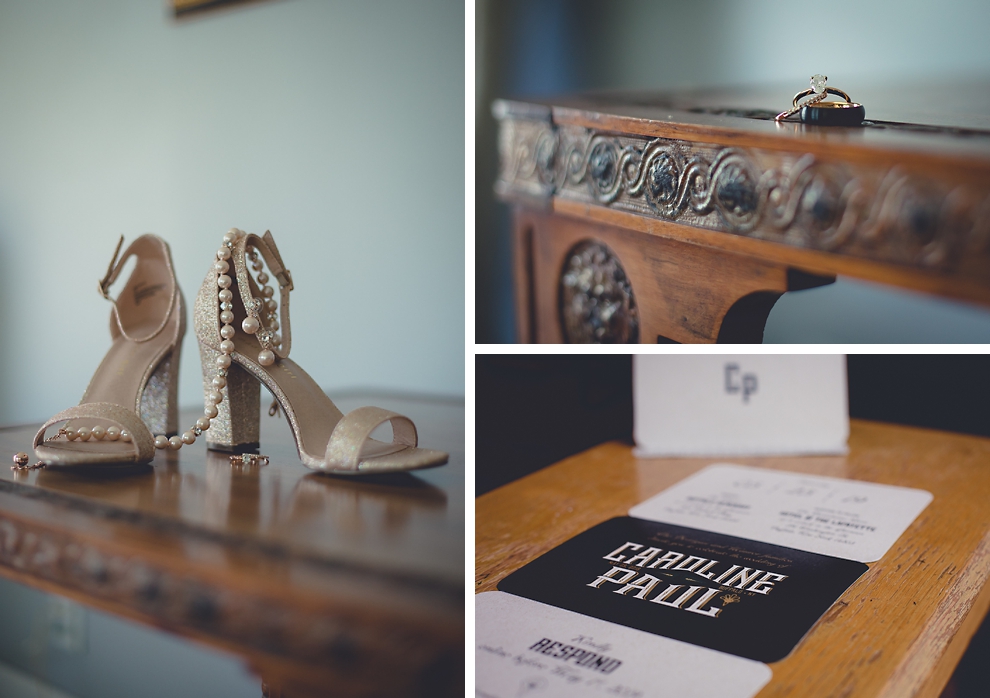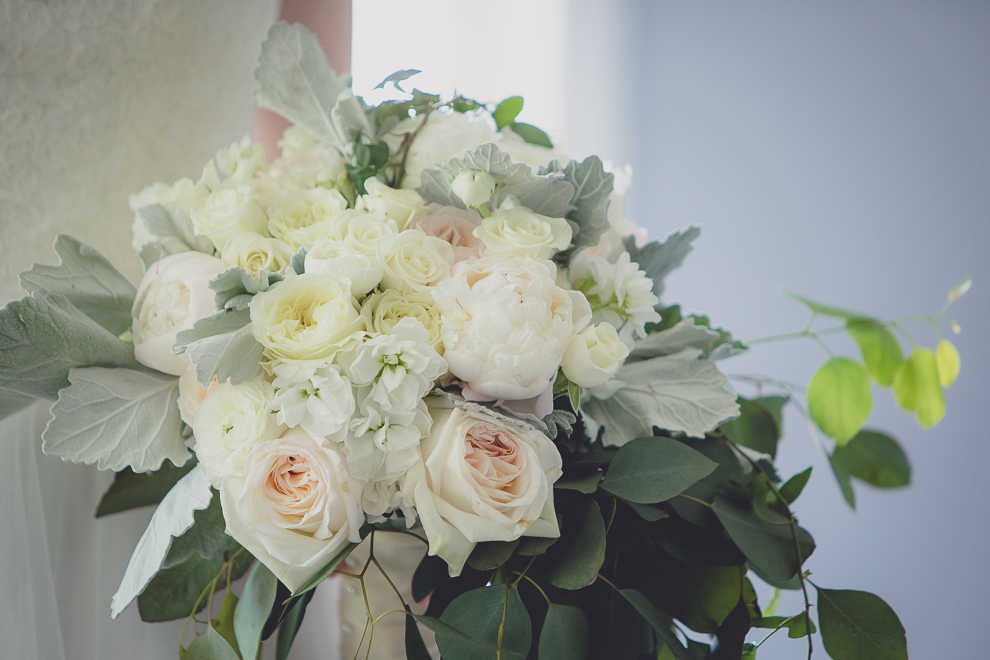 Caroline and Paul both wrote each other thoughtful notes to read the morning of the wedding. I feel like these letters always set the tone for the day – they bring laughter, tears and excitement, and the loving, calming words always seem to get things started right.







Buffalo Seminary
Once everyone was dressed and ready, we were off to Buffalo Seminary for the wedding ceremony. Caroline and all but one of her bridesmaids went to highschool here! It's a beautiful, historic building right in the heart of one of Buffalo's nicest neighborhoods. It was clear that Caroline had many fond memories of her time here and no surprise they chose this beautiful chapel for their ceremony.

The bride was greeted by a former teacher, "Mr. Sutton," in the library. It was clear he was a beloved educator and staple of the school. Mr Sutton has since passed away and I'm SO grateful to have been there to photograph this moment!

As former students of Buffalo Seminary, it was only fitting while in this glorious library that the girls be photographed drinking champagne beneath the infamous head mistress.

Meanwhile guests (and doggie) gathered in the chapel upstairs as music filled the halls and friends and family greeted one another.









Easy to see, Caroline made quite an entrance and an emotional ceremony was under way. I love the two perspectives Steve and I got of the same moment!







They don't call him the best man for nothing. Tissues were handed back and forth between the groom and the groomsmen until the best man finally took matters in to his own hands and did the wiping himself.













Albright Knox Art Gallery and Delaware Park
After the ceremony we made a quick trip down the street to the Albright Knox Art Gallery/Delaware Park for a few portraits of the wedding party.








And finally, it was time to make our way to the Hotel Lafayette Greenhouse Room for more wedding photography and one heck of a fun party.







A well known fact about the groom – HUGE Star Wars fan. He gifted each of the groomsmen a proper light sabre with their names engraved on the handles. They were awesome. I've always been a fan of the military sabre arch at a wedding, but this was next level.










This reaction right here was the moment people started confessing to the groom they had never seen Star Wars. Hysterical!









Wedding pie for the win! A family friend made ALL of these pies for the guests to eat. Yum!








About the band they hired. James Blonde. They're a big YES from me. They killed it and the guests lost their minds dancing to their favorite songs. The groom even got up and rocked out the most epic version of Raconteurs, "Steady As She Goes" that 100% brought the house down. Big props to the groom. And also, hire James Blonde for your next event. They're great.




Then something really fortunate/unfortunate happened. It was an absolute monsoon outside the entire evening so I hadn't taken an exterior shot of the reception venue. I looked out the window at some point and noticed it had let up a bit, so I headed outside to grab the shot. Then all the sudden… this LIGHT!!! I crossed the street to get this photo of the block and when I turned around, wouldn't you know, an epic double rainbow right over the Hotel Lafayette!!! So there I am a block and three floors away from the party without my phone to try and get my assistant to get the couple outside. Rainbows are fleeting. Opportunity was lost. But at least now Caroline and Paul will forever know their wedding was adorned with magic.





Then we played with light sabres more….and a light sabre tickle fight ensued…



Many thanks to Caroline and Paul for having us document this wonderful day! We couldn't have asked for better people to work with. And thank you to all these venues and vendors who helped make the day so great!
Bride Preparation: Private Residence
Groom Preparation: Private Residence
Ceremony: Buffalo Seminary
Portraits: Albright Knox and Hoyt Lake at Delaware Park
Reception: Hotel Lafayette Greenhouse Room
Hair + Makeup: Elle Air
Florist: Maureen's
Bakery: Family friend
Band: James Blonde (formerly X-prime)
Transportation: Zoladz
Second Photographer: Steve Karosik