Alexandria and Andrew
I FINALLY had the opportunity to photograph an entire wedding at the incredible Hotel Henry here in Buffalo, NY. When Alex, Andrew and I first started talking about their wedding photography, there were two things that immediately stood out. One, they wanted to incorporate their pet turtle in to their engagement session (yes, that happened). Two, they were getting married in this stunning architectural marvel. Ever since the Hotel Henry opened I waited for this opportunity.
The Hotel Henry was built nearly 150 years ago and originally served as an asylum. The building itself was designed by Henry Hobson Richardson and the grounds by Fredrick Law Olmstead, the same landscape architect who designed Buffalo's incredible park system (and Central Park!). The building was abandoned in the 1970s and sat vacant for decades, despite its designation as a National Historic Landmark. In recent years, the campus has begun a redevelopment transformation that has been truly remarkable to see. While the legacy of mental health care here in this facility is veiled with some dark history, seeing the space now being used for joyful celebrations of life and love feels like a beautiful renewal. Don't get me wrong, this place has an eerie vibe at times, but it only adds to the wonder of the place.
Aaaaaanyway, we're here because Alex and Andrew got married! We began the day in the hotel portion of the complex where the couple got ready in adjacent rooms. The guest rooms at the hotel are beautiful. But one of the BEST parts of this building are actually the hallways. Alex and her bridesmaids took over this beautiful nook for their makeup appointments and breakfast. It was the perfect space to spread out and enjoy the morning. This handsome ring bearer made for quite an entertaining greeter as well!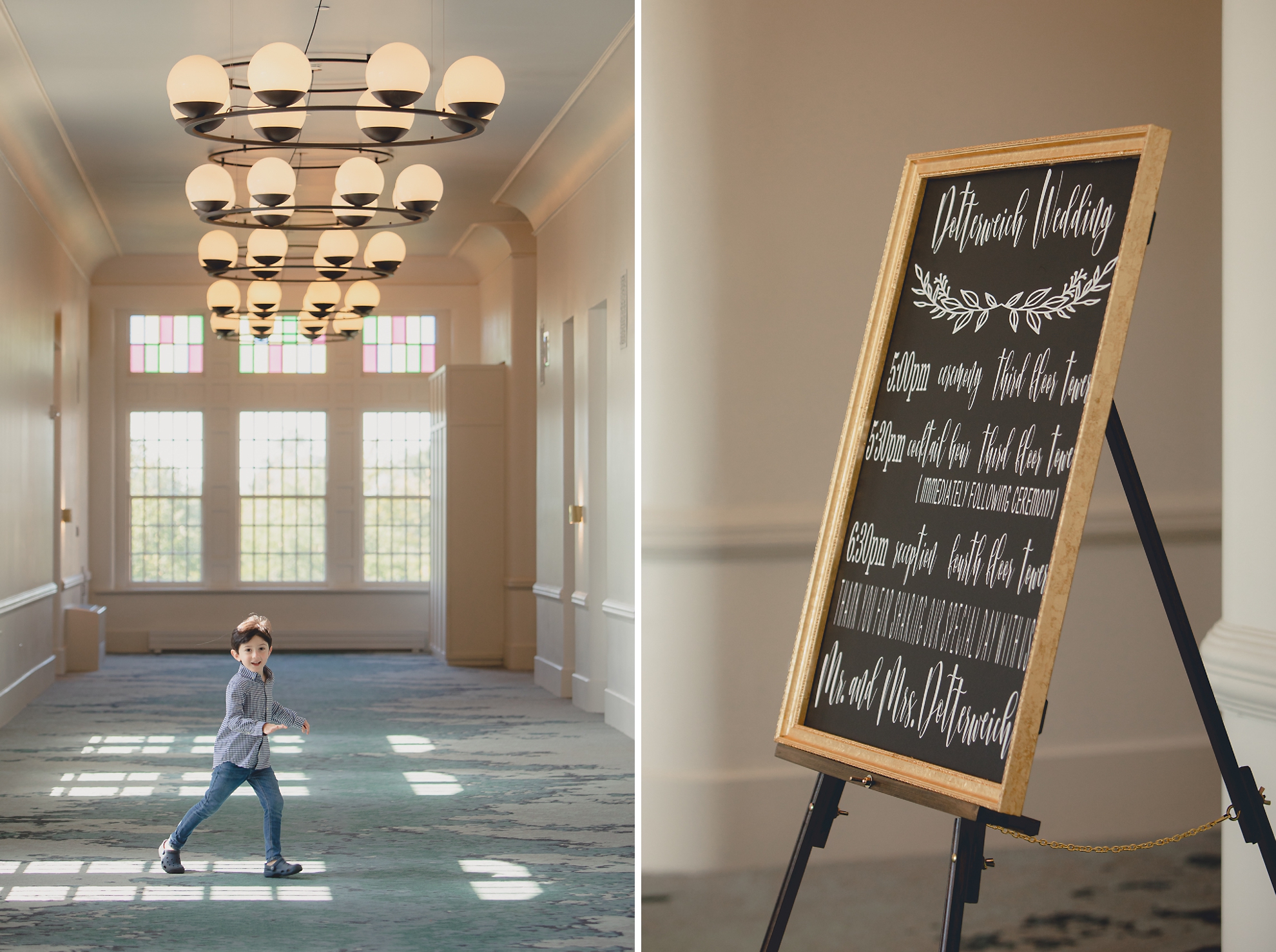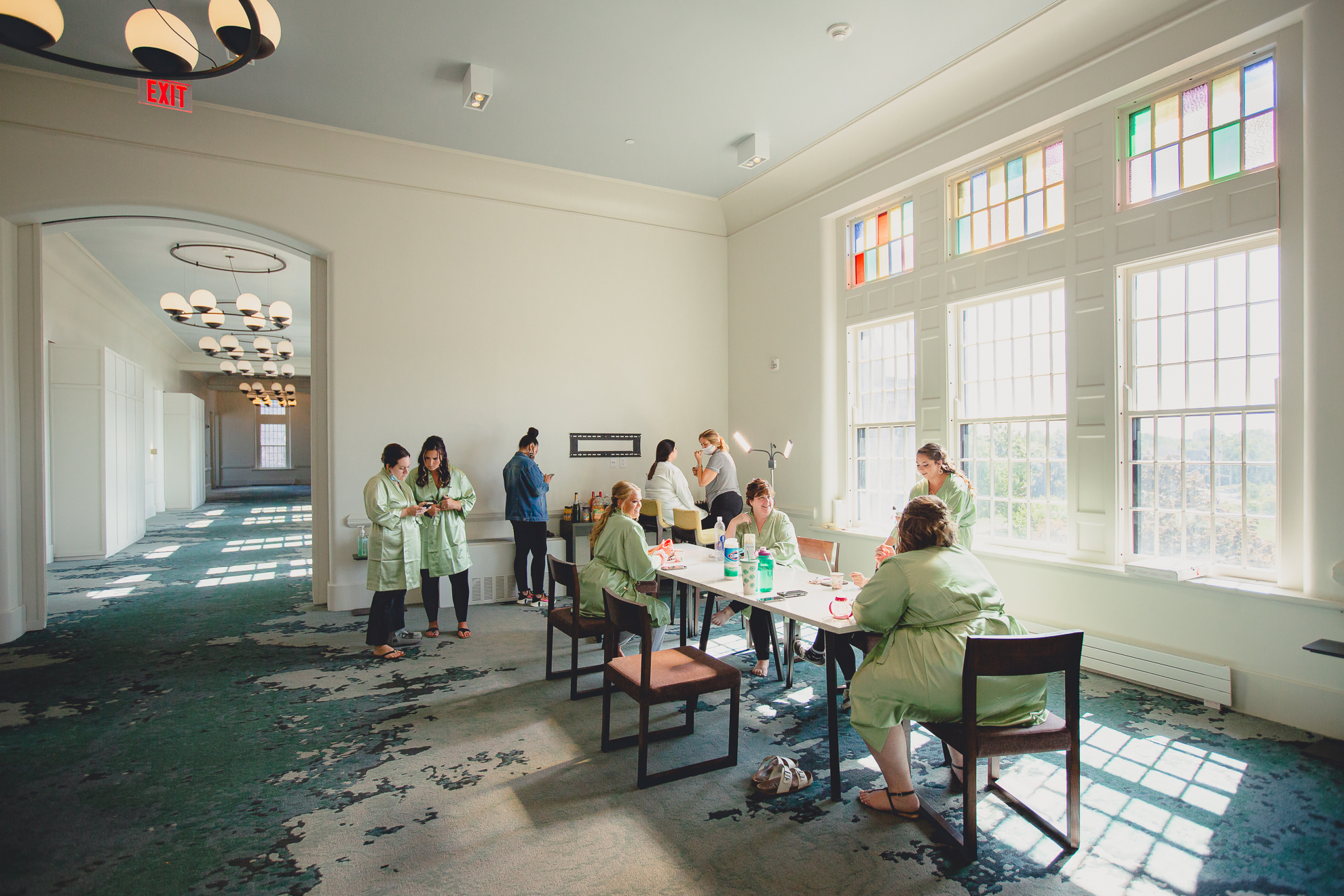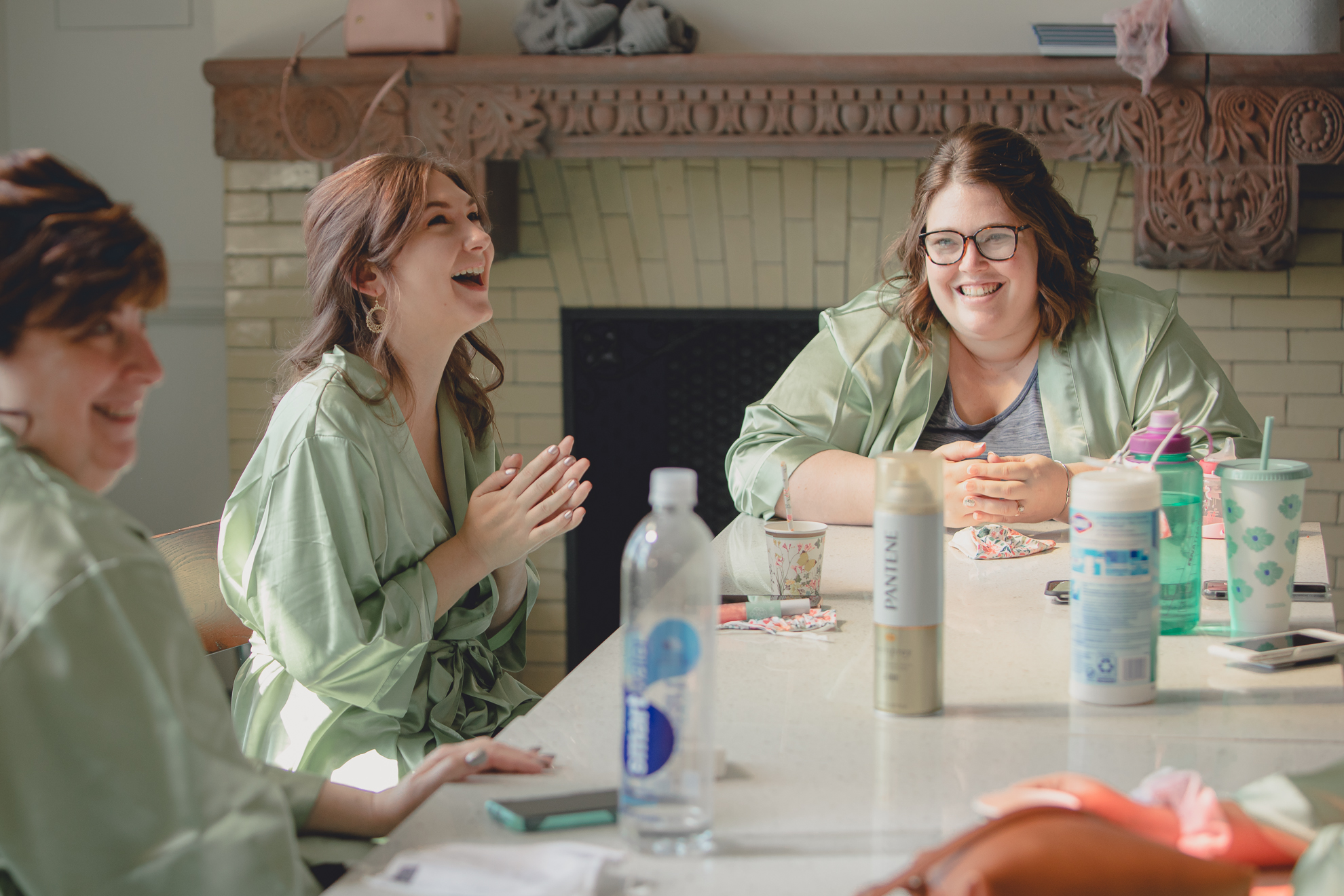 Hanging Alex's wedding gown on this amazing column was no easy task. When I came in the room, the dress was hung on the back of a door and… it just wasn't going to do. With the help of an ambitious and far taller than me bridesmaid, and a little ingenuity, we got the dress on the glorious column.



Meanwhile, second shooter extraordinaire, Jenny, joined Andrew and his groomsmen in their room while they prepared for the day.









EARMUFFS!




We had a whole series of "first looks" with Alex. First up was her bridesmaids, then down the hall to meet her dad, and finally to a different hall where we met Andrew.





One of my absolute favorite things about the Hotel Henry is the ever growing collection of truly good artwork. Every time I visit, there are more pieces on display and it truly feels like an art gallery as much as anything else.


From the Hotel Henry we ventured around the corner to classic Buffalo pub and the site of Alex and Andrew's first date, Cole's, for a few quick photos.

From here we wandered over to Buffalo's beloved Delaware Park, another glorious Fredrick Law Olmstead design, for our wedding party portraits.










Back to the Hotel Henry for our family portraits and wedding celebrations!












During cocktail hour, Jenny and I snuck away with the bride and groom for a few pictures outside the Hotel Henry where we were able to photograph the couple with one of Buffalo's most iconic buildings as our backdrop. Hotel Henry really is a dream for wedding photography, one of my favorite venues in Buffalo!











Wedding reception time!























That's it for Alex and Andrew's wedding photography at Hotel Henry in Buffalo! If you or someone you know is planning a Hotel Henry wedding, please feel free to reach out for more info here!
Many thanks to Alex and Andrew for having us photograph your beautiful wedding! And thank you to all these venues and vendors who helped make the day so great!
Bride Preparation: Hotel Henry
Groom Preparation: Hotel Henry
Ceremony: Hotel Henry
Portraits: Ivy Bridge at Delaware Park
Reception: Hotel Henry
Officiant: Jess Pecoraro of First Comes Love Buffalo
Hair: Elle Air
Makeup Artist: Beauty Atelier
Florist: Blossoms n' Treasures
Bakery: Mundy Cakes
DJ: Full Swing Sound
Transportation: Status Limo
Second Photographer: Jenny Link Kiefer