Julie & Chris
Another Stuart wedding is in the books. This is the third wedding I've photographed for this lovely family, and each one has been as beautiful and special as the last. As a photographer, there's a distinct benefit that comes with working with the same family multiple times. In this case, I know which Aunt always cries during Mr. Stu's speeches, I know the last dance will always be, "Piano Man." I know Grandma Stu will inexplicably dance her tail off to, "Who Let the Dogs Out" and that the dessert spread will be next level. I also grew up in the house next door to the bride (before they lived there) and so I even knew my way around the house.
It has been such a privilege to watch this family grow and change since cousin Kelly's wedding some 8 years ago (now mom to 3 with another on the way!) and I can't thank them enough for hiring me to document all these big moments in their lives.
This day was about Julie and Chris (aka Nigel) though, and Chris brought a whole cast of new characters in front of my lens, all the way from England! You'll notice the gorgeous hats and colorful wedding attire soon enough. Please adopt this tradition Americans! This made the wedding reception photography at the Admiral Room even more colorful and fun, that's for sure. More on that later – let's get started!
I began the day with Julie at her parents gorgeous home on the Niagara River in Lewiston, NY. Julie wasn't originally planning to get ready here, as it's a little bit of a drive from the rest of the festivities, but I'm SO glad she changed her mind. This house is just perfect for wedding pictures and the fact that it has a personal connection to the bride just makes it that much sweeter.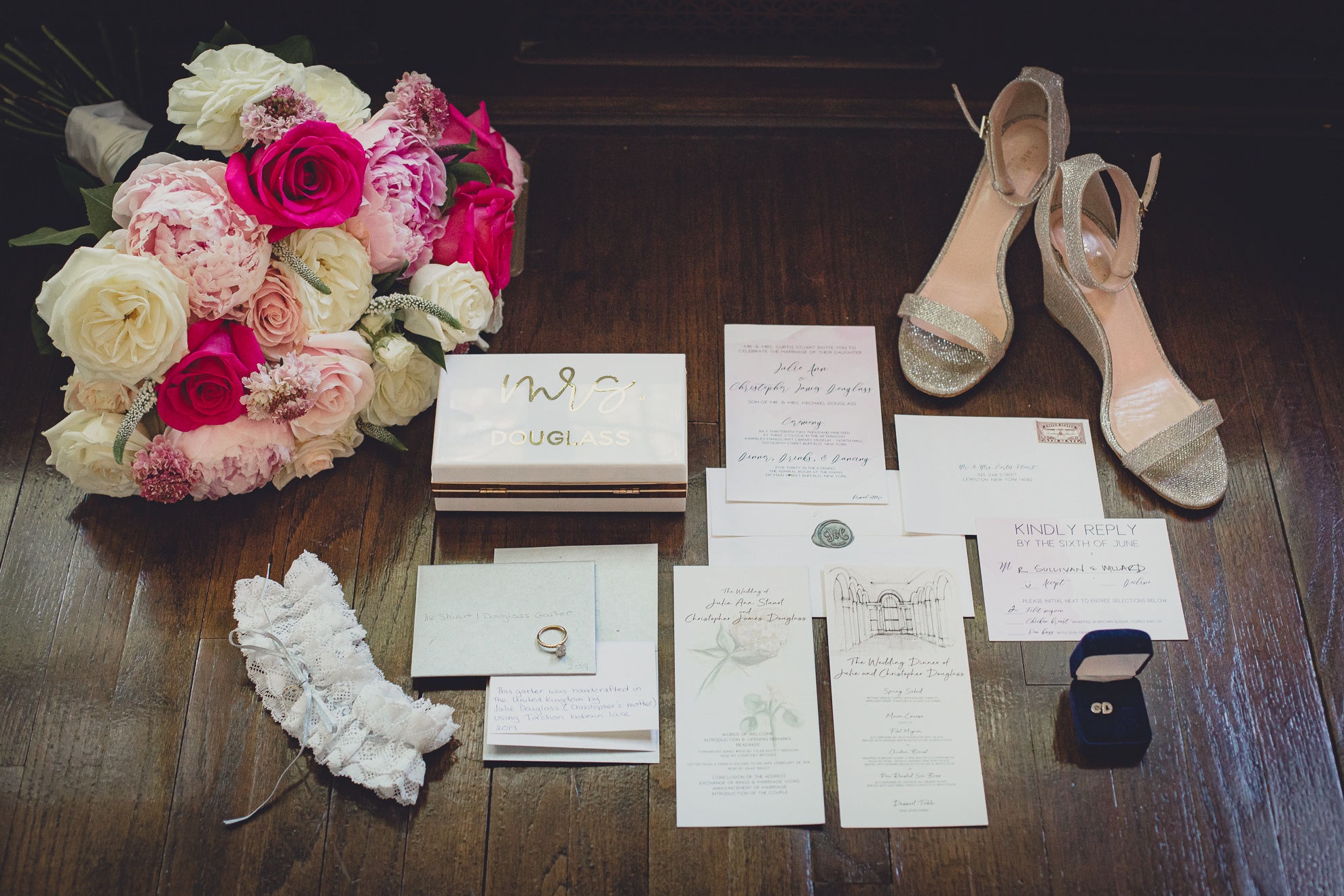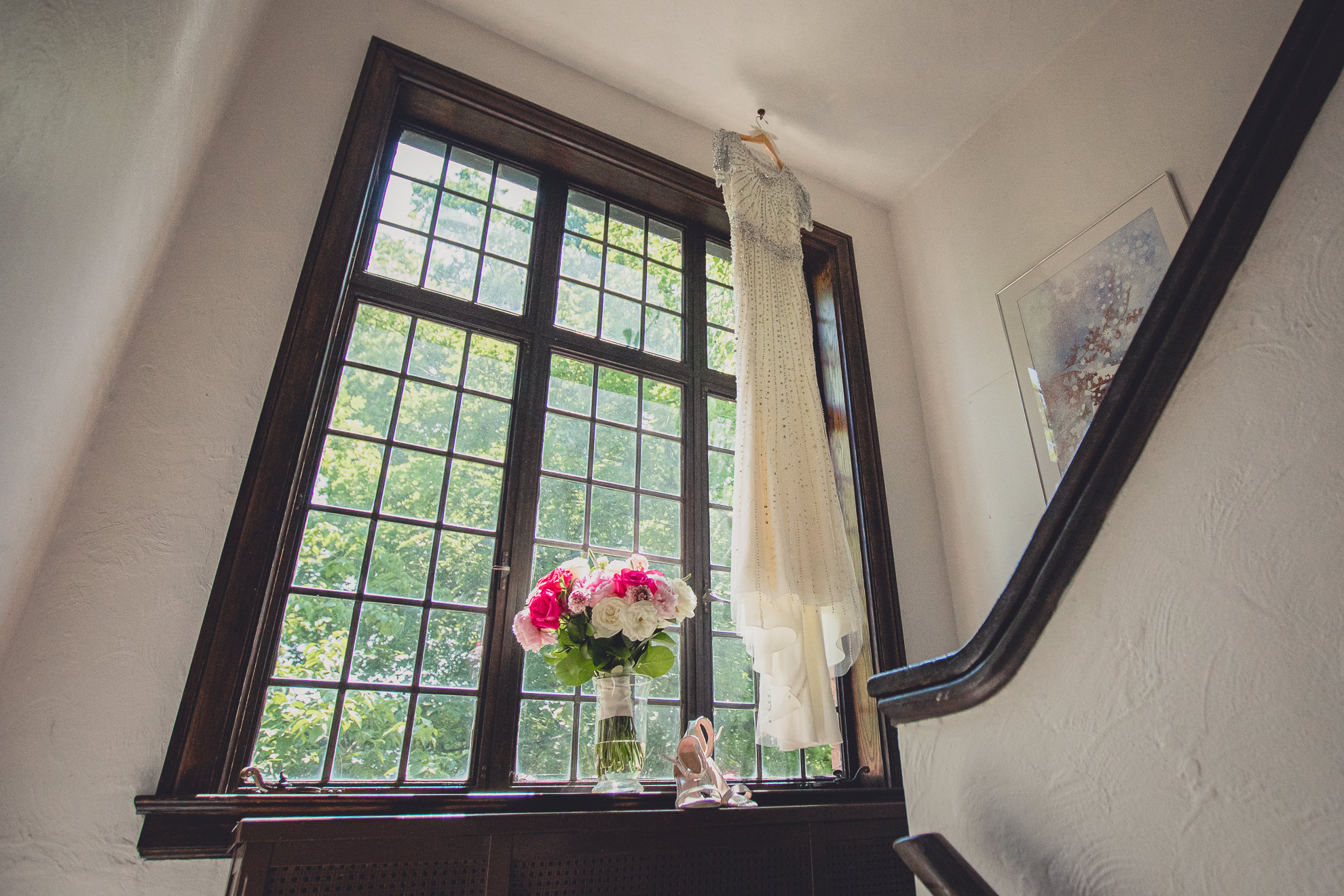 I have almost the EXACT same photo of Julie's mom from her sister Lindsay's wedding last year. That's one proud momma <3

Julie's dad joined us for an emotional "reveal" and gave Julie an embroidered handkerchief, another family tradition.




This next picture made me SO happy. Julie's parents saved this folder of drawings Julie made of her future wedding gowns, and there they were, spread out on the coffee table on Julie's wedding day. They had various design notes and an all important "STAY OUT!" memo on the cover. Gotta protect your copyright, respect Julie, respect. I know I mentioned earlier that I grew up in the house next door, and these instantly brought me back to the countless hours I spent with my neighbor Kristen drawing dresses in this exact house. I eventually went to college for illustration and now document weddings, and neighbor Kristen went on to become a painter. Must be something in the air on this street. <3


Julie rejoined her bridesmaids downstairs and a portrait session in the backyard was underway. Yes, this is the backyard… Gah!!!

Julie wore her sister Lindsay's veil and it flew in much the same way it did on Lindsay's big day.


Proud mom looking on from inside…



Meanwhile my second shooter for the day, Teri, spent a little time with these gentleman at the Westin Hotel in downtown Buffalo.

This is the groom, Chris! Everyone calls him Nigel though. Apparently when Julie and Chris started dating, Julie and her friends decided "Chris" wasn't a British enough name and started calling him Nigel instead. Turns out Nigel isn't a very popular name in England and the whole thing just got funnier.

The guys all had socks denoting their country of origin.



Julie met up with all her adorable flower girls and ring bearer before the ceremony for a quick little photo shoot. They were all SO excited to see her and be part of the big day!




Adorable little black sheep on the right is my spirit animal. On to Karpeles Manuscript Library for the ceremony!

This gift to the groom was a collection of letters the bride had been writing to Chris every day throughout their engagement. I heard many people describe Julie as, "beautiful inside and out" on this day – and this was just one more testament. Not only did she write these letters to Chris, but this couple hand wrote a letter to EVERY single guest with a little message about what their presence means to them as their place card (pictured a little further down.) There was even one for me!




These fabulous British ladies walked to the ceremony and then changed in to their heels. I love them.




Here comes the bride!






Second shooters find the darndest things at weddings. No clue why this was posted, but it made me laugh. Thanks Teri!



Let the tearful vows begin!













And then… as I had a giant group of Chris' family lined up on the steps of the library for a photo, the annual "Naked Bike Ride" passed by and laughter ROARED. We all insisted it was an American wedding tradition. Amazing.








From Karpeles we headed a little further downtown for photos in Buffalo's theater district and in front of the, "Greetings from Buffalo" mural.





On to the stunning Admiral Room at The Marin to create some wedding photography from a reception to end all receptions. This crew had fun, a lot of fun.
I absolutely love working at this venue. Wedding photography at the Admiral Room in Buffalo is such a breeze with it's gorgeous arched windows and fabulous molding. It's such a treat! If you would like to see more from the venue, check out this wedding when you're done here!




These are the letters I mentioned that the couple wrote to each guest. Each clip held an envelope with a handwritten letter and a table placement inside. So sweet!!!








Dessert first, I'm with you Jules!








Introducing the new Mr. and Mrs. – from the Admiral Room balcony!












Remember in the intro when I mentioned the Aunt who always cries? There she is!



























And the best family tradition of them all, Grandma Stu and, "Who Let the Dogs Out!" This time, with a robotic Christmas dog! (?!)













And one last tradition – the couple dancing to Piano Man in a circle(ish) of guests for the last song. Julie told me that a photo of this dance ends up being every ones Christmas card after each wedding. I love this SO much.






Many thanks to Julie and Chris for having us document your day! And thank you to all these venues and vendors who helped make the day so great!
Bride Preparation: Private Residence
Groom Preparation: Westin
Ceremony: Karpeles Manscript Library
Portraits: Karpeles, Greetings from Buffalo mural, Shea's Performing Art Center
Reception: Admiral Room at The Marin
Hair + Makeup: Lauren Szafarian (hair) Makeup by Alinna (MUA)
Bride's Gown: Jenny Packham – Ultimate Bride Chicago
Florist: Evergreen Florist
Bakery: Village Bake Shop
Program + Menu Design: Justin Willard
DJ: Gary Hall
Transportation: DJ the Dee Jay
Second Photographer: Teri Fiske