Supporting photography from a Reuters investigation in to the policing of the Rochester, NY police in the wake of the 2016 shooting of Silvon Simmons and the recent killing of Daniel Prude.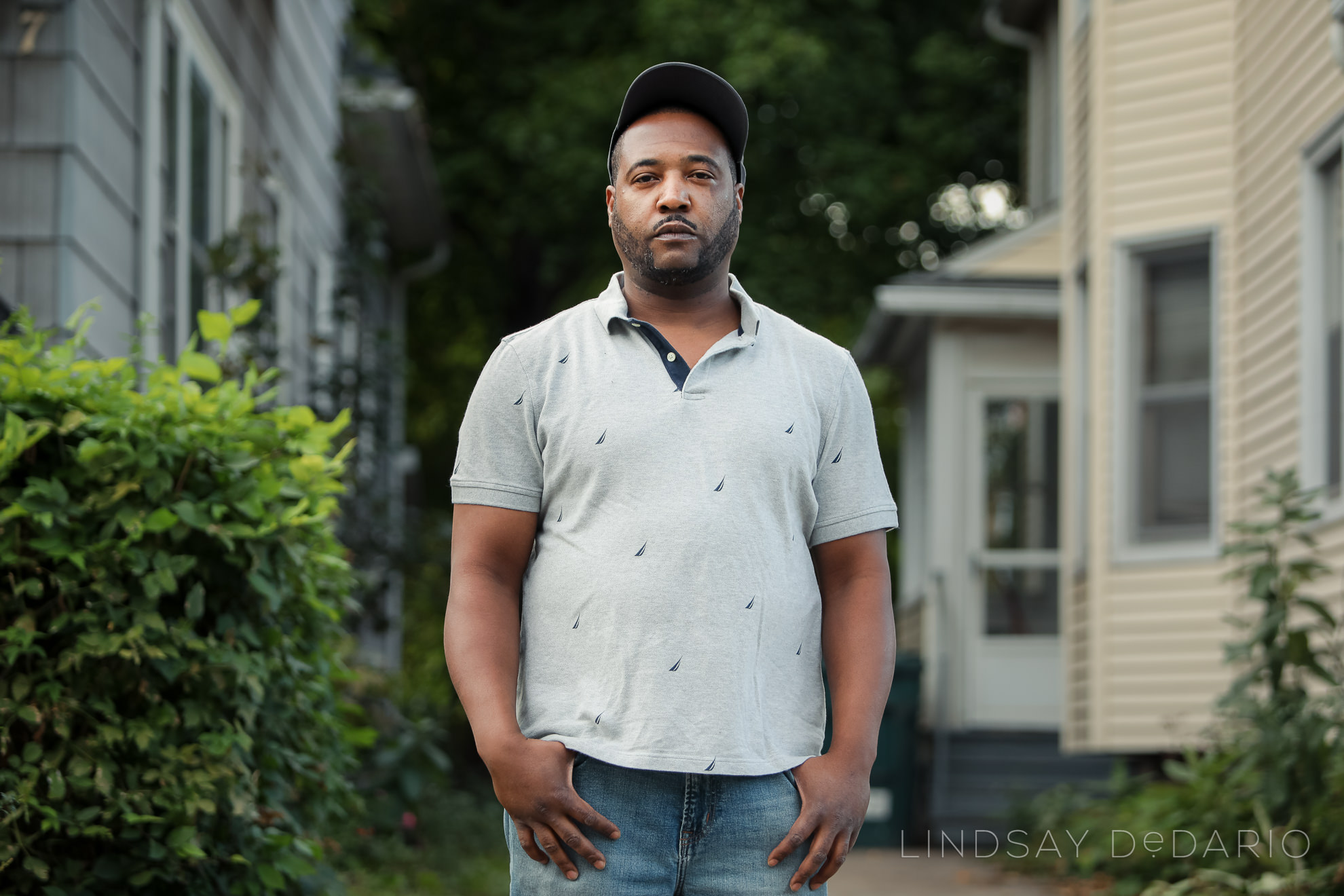 I've made the drive back and forth between Buffalo and Rochester, NY quite a few times this year to cover an array of stories for Reuters, all revolving around the black community. From grassroots COVID-19 education to Black Lives Matter protests, I've got to know Rochester on a new level through these assignments.
Yesterday, Reuters released one of these stories. It's an exhaustive investigation by writers, Lisa Girion and Reade Levinson, in to the very complicated topic of policing police. This is a very good, important and tough read (and not just because of its length and depth.) Without sensationalism, it breathes life in to the issues through the story of Silvon Simmons, the innocent victim of a 2016 Rochester police shooting. I highly recommend setting aside some time to read the article. It can be found here.
As part of this complex story, I had the opportunity to photograph and even interview some of the folks involved. This allowed me to experience the humanity behind the tragic events that have transpired between members of the black community and the Rochester Police.
Pictured above and below is Silvon Simmons. Silvon was shot three times in the back by a Rochester police officer in his driveway (pictured behind him) upon returning home from the store with his neighbor. The officer claimed he thought Silvon was someone else. Without checking his license plate, calling for back up, turning on sirens, etc. he pursued Silvon who ran for cover in his driveway upon seeing a backlit figure running at him with a gun.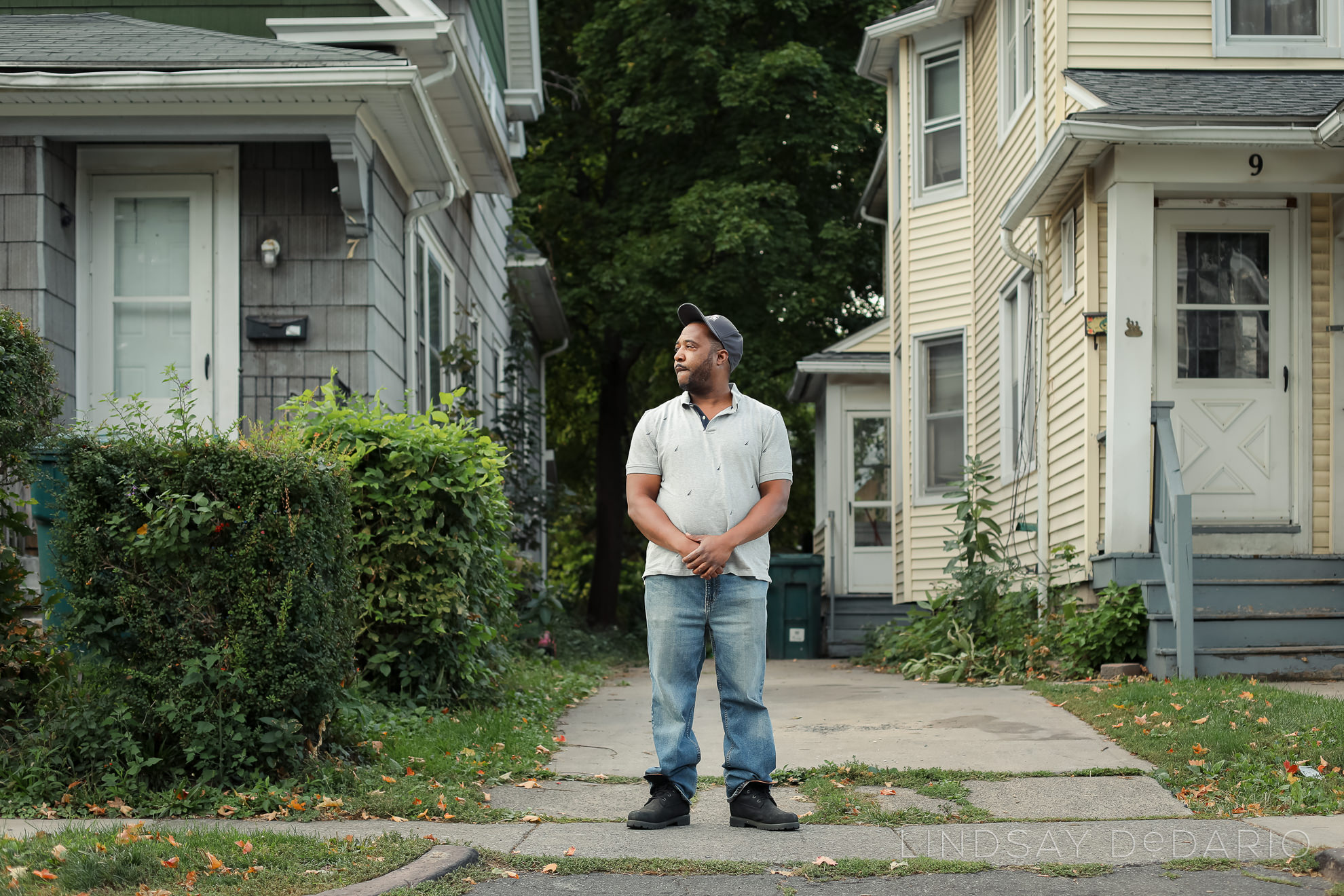 Silvon survived the shooting, but suffered a collapsed lung among other injuries. He still has bullets lodged in his body and feels pain every day. To add insult to injury, Silvon was arrested for trying to shoot the police officer, despite there being no evidence. Silvon spent years in jail before he received a not guilty verdict at trial.
This was Silvon's first time back at the scene. He lived in the gray house seen in the background with his partner and their three children. That snack run changed his life forever.

More recently, a video surfaced of a man, Daniel Prude. Prude was being restrained by the Rochester Police while suffering a mental health episode. Prude later died of complications due to asphyxia. These events caused an uprising of rallies and protests in the city of Rochester and an amplified outcry for the policing of police. Seen below are the early makings of a memorial for Daniel Prude on Jefferson Ave., where the fatal restraint went down.

Community leaders like Mayor Lovely Warren and Rev. Lewis Stewart (pictured below) among others spoke out against the events in an attempt to unite the community.


They were met with frustrated, fed up community members for whom comforting words were no longer enough. Below, as a vigil for Daniel Prude was about to begin at First Church of God, Jordyn Smith (pictured) and dozens of other protestors stormed the scene, demanding the people there join them in marching for real change.

Protestors eventually gathered by the hundreds on Jefferson Ave. and demonstrations lasted for over a week.





The incidents surrounding Daniel Prude's death felt all too familiar for other victims of police violence. I had the opportunity to spend an afternoon with Silvon Simmon's parents, Frank and Sharlene. They were living in Memphis at the time Silvon was shot, but immediately packed their bags for Rochester and have been there to support Silvon ever since. Frank and Sharlene were incredibly hospitable and welcomed me and all my big questions with open hearts. We poured through family photos together as they recalled all kinds of great stories about their family history.


As the afternoon rolled on, we laughed, we cried… It was really touching to better understand what their experience has been through all this, and to hear their hopes for progress.


I also met with Rochester City Counsel President, Loretta Scott, pictured below. The city counsel is currently fighting to create a police accountability board. This volunteer board would help investigate complaints against police and review policing practices.

I urge everyone to read this Reuters piece. This is no easy subject, but one we hope will continue the conversation about accountability and help to save black lives like Silvon's. Here's the link: https://www.reuters.com/investigates/section/usa-police-rochester/

All inquiries, please contact me here.